Organic
Food for Thought.
There comes a point
in Space and Time,
in a place
that is mine,
where Love
merges with
Reality,
where YOU
are aligned with
the Perfection of
Being.
When
your affection for another
is deep enough,
and your devotion
Treasured
beyond Belief,
the abiding power of your Love
can change
the very nature
of Reality,
and YOU.
Yes,
a profound outpouring
of Love has,
on many occasions,
resulted in Miraculous events
and inexplicable results.
One such Miracle
happens
when two people
fall deeply in
Love,
and Miracle of Miracles:
A Child in Born.
We may not
think of birth
as Miraculous,
but it is widely recognized
as such.
When
two people
experience such Love,
a Pathway is illumined
to the Transcendence
of all perception and reason
and even Time itself.
And
the door to this Pathway
may be opened,
and closed,
by YOUR
Heart.
Love
comes
from
within.
The realm
of Timeless Love
is evidenced by
YOU.
Your Life
is the result
of countless and timeless
phases
of Love's full Moon,
of God's strong desire
for Mankind
to march forward
and carry on.
The Power of Love
is the power
over Death.

Love's
Eternal Quest
to live in a perpetual
state of motion
is indeed
the most powerful thing
in the Universe.
Infinity of Life,
the longing
for Tomorrow,
surpasses all expressions
and all possessions
sheltered in our
desires,
or dreamt of
in our Dreams.
 "Love knows no limit
to its endurance,
no end to its Trust,
no fading of its Hope;
it can outlast anything.
It is, in fact,
the one thing
that still stands
when all else
has fallen."
– 1 Corinthians 13 7-8
Our
felt Love
is mirrored in,
and emanates from,
and through
every
act of Compassion,
every
fulfillment of desire
to help others:
the homeless, the sick,
the destitute,
those who feel
lost
and without the Love
needed
to continue Life.
click here to see WHY your Love is so needed
"Death
leaves a heartache
no one can heal,
Love
leaves a memory
not one can
steal."
– Beethoven
Each act of Caring
is a reflection
of God's desire
to sustain Life,
to extend His Compassion
and share His
Love.
Let us not
simply Love
those around us.
Give them
permission
to Love.
For they may not
truly understand
how much
Life is in Love
with them.
They may
never know
that Life
is Love,
that Love
is the only reason
to live,
and that Love
is the reason
they are
alive.
My Dear Friends,
God is Love,
and so are
YOU.
"I Love thee with a Love
I seemed to lose with my lost Saints,
I Love thee with the breath,
Smiles, tears, of all my Life!
and, if God choose,
I shall but Love thee better
after death."
– Elizabeth Barrett Browning

Love begins
in a moment
and ends
in Eternity.
The Love you share
today
can mirror
the Eternal Love
of God.
Life can leave you
with an all-encompassing sense
of Love,
with a true connection
with everything, everywhere.
We exist
in a continuous and infinite
field of inseparability,
and in constant relationship
with everything.
Our mysterious existence
gives rise to a feeling
of Loving curiosity.
Our desire to become one
with this Mystery
is a Spiritual Love
emanating from a Heartfelt need
to unify
all of Life.
Every thought
we have ever had,
in the seeming privacy
of our own mind,
has been shaped in relationship
with the thoughts
of everyone we have ever known,
and everyone they have ever known,
and on and on and on
it goes.
What we think
is influenced by other people,
and by every experience
we have ever had,
with every living
and every non-living thing
on this precious
Earth,
and by God
in Heaven Above.
Nothing
is separate
from anything else.
We are one.
Humanity
is in the process
of trans-formative growth
that can lead us
to deep self-reflection.
Our Humanity
can
grow and Blossom
in profound and empowering
ways.
"We have all been polished
again and again
by the impact of other people's
rough edges
colliding with our own,
wearing down the irregularities
of our emotional
and mental surfaces, our egos,
hitting our weak points
and causing the occasional fracture.
Through this process,
humanity collectively moves
blow by blow,
back toward our awareness
of the deeper and gem-like perfection
within each of us."
– "The Book of Miracles: The Healing Work of Joao de Deus"
by Josie RavenWing
read more

There are
Infinite ways
to discover True Love,
and Infinite days
for Love
to last.
Yes,
True Love
is destined to last
until we realize,
there is no end
of Time,
for Time
does not exist.
But Love
does.
Love
is the only thing
that truly does
exist.
Goodnight.
"Love is the only bow of life's dark cloud.
It is the Morning and Evening Star.
It shines upon the cradle of the babe,
and sheds its radiance upon the quiet tomb.
It is the Mother of Art,
inspirer of poet, patriot, and philosopher.
It is the air and light of every heart,
builder of every home,
kinder of every fire on every hearth.
It was the first dream of immortality.
It fills the world with melody.
Love is the magician,
the enchanter that changes worthless things to Joy,
and makes right royal Kings of common clay."
– Robert Green Ingersol
Is Death an Illusion?


Evidence Suggests Death
Isn't the End.
Life is an adventure
that transcends our ordinary
linear way of thinking.
By Robert Lanza M.D.
U.S. News & World Report Cover Story
"…his mentors described him [Lanza] as a "genius,"
a "renegade" thinker, even likening him to Einstein."
.

 After the death of his old friend, Albert Einstein said "Now Besso has departed from this strange world a little ahead of me.

That means nothing. 

People like us – know that the distinction between past, present and future is only a stubbornly persistent illusion."
New evidence continues to suggest that Einstein was right, death is an illusion.
Our classical way of thinking is based on the belief that the world has an objective observer-independent existence. But a long list of experiments shows just the opposite. We think life is just the activity of carbon and an admixture of molecules: we live awhile and then rot into the ground.
We believe in death because we've been taught we die. Also, of course, because we associate ourselves with our body and we know bodies die. End of story.  But biocentrism, a new theory of everything, tells us death may not be the terminal event we think.  Amazingly, if you add life and consciousness to the equation, you can explain some of the biggest puzzles of science. For instance, it becomes clear why space and time – and even the properties of matter itself – depend on the observer. It also becomes clear why the laws, forces, and constants of the universe appear to be exquisitely fine-tuned for the existence of life.
Until we recognize the Universe in our heads, attempts to understand reality will remain a road to nowhere.
Lanza Named One of the Top 50 "World Thinkers"
Dr. Lanza selected as one of Prospect Magazine's "World Thinkers 2015." The thinkers were chosen for "engaging in original and profound ways with the central questions of the world today.


.



In truth, you can't see anything through the bone that surrounds your brain. Your eyes are not portals to the world. Everything you see and experience right now' even your body, is a whirl of information occurring in your mind. According to biocentrism, space and time aren't the hard, cold objects we think. Wave your hand through the air – if you take everything away, what's left? Nothing. The same thing applies for time. Space and time are simply the tools for putting everything together.
Life is an adventure that transcends our ordinary linear way of thinking. When we die, we do so not in the random billiard-ball-matrix but in the inescapable-life-matrix. Life has a non-linear dimensionality;
it's like a perennial flower that returns to bloom in the multiverse.
"The influences of the senses," said Ralph Waldo Emerson "has in most men overpowered the mind to the degree that the walls of space and time have come to look solid, real and insurmountable; and to speak with levity of these limits in the world is the sign of insanity."
 You've laughed and cried. And you may even fall in love and grow old with someone, only to be ripped apart in the end by death and disease. The universe leaves you dead or grieving with a hole in you as big as infinity.
Can life really be reduced to the laws of physics, or are we part of something more noble and triumphant?
Are we part of a depraved cosmic joke, the product of a vast and ruthless Universe?
Through the eyes of science, you're a speck of junk spinning around the core of the Milky Way galaxy, which itself is whirling through the unfathomable blackness of space. It's all in the equations, you know. Nothing to get philosophical about. Nobel physicist Steven Weinberg summed it up best:
The effort to understand the universe is one of the very few things that lifts human life a little bit above the level of a farce and gives it some of the grace of a tragedy.
You can learn more about biocentrism at www.RobertLanzaBiocentrism.com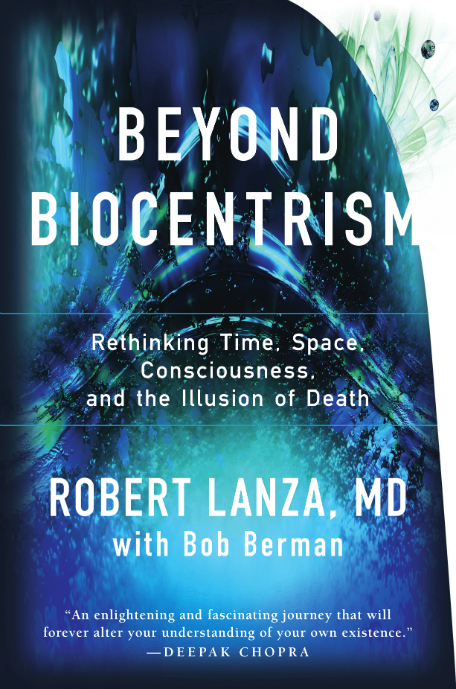 MORE
Organic Food for Thought:
from
Robert Lanza
"Sitting on Top of Infinity"
Listen to an excerpt from Dr. Robert Lanza's recent talk at the Hazy Moon Zen Center.
An interview with the author of Biocentrism, a book that Nyogen Roshi (the last authorized disciple of Taizan Maezumi Roshi, the foremost Zen master of the twentieth century) describes as mirroring his experiences in the practice of zazen as closely as anything he has encountered in a modern writer.

A New Theory of the Universe: Biocentrism builds on quantum physics by adding life to the equation.
IMPORTANT DATES
May 1                                    Tuition Balance Due for 2018-19   
May 22- 25                            Adventure Trip
May 25                                  Last Day of Semester
Important dates are posted each Wednesday at 7:00 p.m.:
William's Weblog at andersonschool.net
Lyrics/songs texts/paintings/articles
are property and copyright of their owners
and provided for educational purposes.
Copyright Disclaimer – Section 107 – Copyright Act 1976,
allowance is made for "fair use" for purposes such as criticism, comment, news reporting, teaching, scholarship,and research. Fair use is permitted by copyright statute. Non-profit, educational or personal use tips the balance in favor of "fair use".
© Copyright 1995-2018 The Anderson Private School.
All Rights Reserved
.