Close your eyes
and listen –
to the sweet melody
of each moment
that unfolds Happy memories.
Such reflection
makes us realize how precious
Life is,
and how our memories
Bless the Future
with the Past.

Yes,
close your eyes and go back to a Time
when Life was good, 
to a Happy place.
That Happy Time will come back.
It will.
Precious memories
are brought about by the Beautiful
moments we spend
with everyone and everything we
Love.

Dandelion fluffs
gently floating by and out
into the great expanse,
are on their way to seed
the Stars
in your eyes.

 My Dear Friend,
do
what your Heart
whispers.
Your Life
is hypnotically affected
by the subconscious.
,
Your fragile mind
can be placed
in an emotional – meditative state.
Awareness
is a unique tool
for achieving inner Harmony
with yourself and the World
around you.
Release
all concerns
and let the Natural Order of Life
flow
through and around
your Being.
.
Take Delight
in this Magical
Moment.

Nostalgic things
that never happened,
are Beautiful and so deep.
 Memories
that are not mine,
are called Dreams.
A few words
are enough to express
your deepest feelings.
A song
is always musical
medication.
And Prayer
is Spiritual Medicine,
that helps people
overcome their troubles.

Your Life
is an Immortal Melody 
filled with wonderful lyrics.
.
You are Loved.
You are Blessed.
You are God's Dream
come True.
 Keep shining your Light
in our World.
We need you.
We need your
Love.

Just as the Sun
is about to set,
pull over, get out, admire
the Evening retire.
.
Feel
the gentle breeze,
as the emotion of the moment
sweeps over your mind,
body and Spirit.
When the wind
gently moves the fields of green,
and Loves the grass and leaves
and trees
and all Living Things,
gaze awhile
and fall into the Arms of God.
.
Among our fields of Dreams,
God
will stay with us.
He never made Promises
Lightly.
And there have never been
those,
He has ever broken.

Many years have passed
since those summer days
of golden youth.

See the Children
run with such fun
as the Sun
fades and goes down.
  Our Hearts lay in fields of gold,
as we remember
the days gone by.
And in the jealous sky,
we fly in the sweet
by and by.

People
who are tuned to the rhythm of the Earth,
listen to a Song
from their Soul.
The Voice of Nature
penetrates our very
Being.

The Sun
shines like it always does.
But have you
ever really noticed it in the Sky
before?

  No one
can take it from you.
And no one
can take the Love
of God
from your Heart.

Bring your Love
out into the Light.
"Where do I begin
To tell the story of how great
a Love can be,
The sweet Love story
that is older than the sea."
– Francis Lai, Carl Sigman

God's Love
is written
on the walls of your
Heart.
  The Light of such Love
will not fade away.
.
And His Greatest Creation,
You,
are the most Beautiful Work
of God's Art.
Goodnight.

Dr. Masaru Emoto and Water Consciousness
Dr. Emoto was a pioneer in the study of water. His work demonstrated that water is shaped by environment, thoughts and emotions.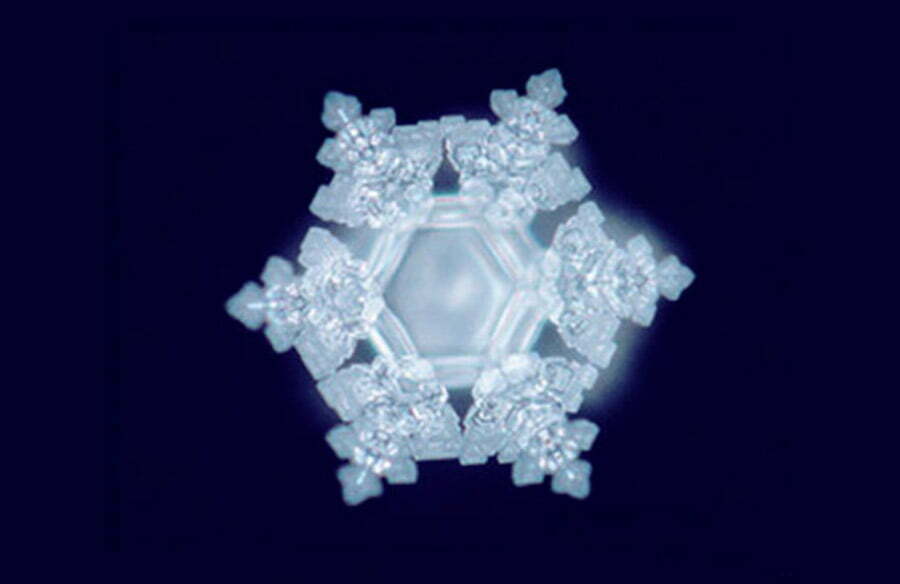 Blog Content Navigation
Who Was Dr. Masaru Emoto?
Dr. Masaru Emoto, the Japanese scientist who revolutionized the idea that our thoughts and intentions impact the physical realm, is one of the most important water researchers the world has known. For over 20 years until he passed away in 2014, he studied the scientific evidence of how the molecular structure in water transforms when it is exposed to human words, thoughts, sounds and intentions.
The extraordinary life work of Dr. Emoto is documented in the New York Times Bestseller, The Hidden Messages in Water. In his book, Dr. Emoto demonstrates how water exposed to loving, benevolent, and compassionate human intention results in aesthetically pleasing physical molecular formations in the water while water exposed to fearful and discordant human intentions results in disconnected, disfigured, and "unpleasant" physical molecular formations. He did this through Magnetic Resonance Analysis technology and high-speed photographs.
See the following water crystal photographs from Dr. Emoto's work. Each water crystal you see was exposed to the word it has written next to it prior to being photographed: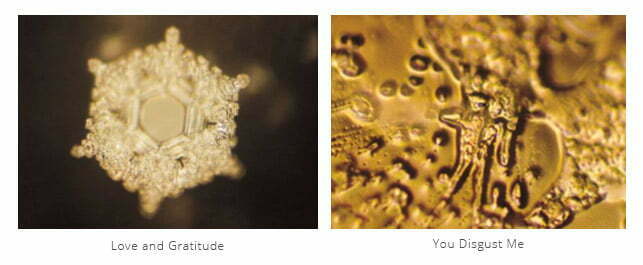 His research also showed us how polluted and toxic water, when exposed to to Prayer and intention can be altered and restored to beautifully formed geometric crystals found in clean, healthy water. The following photos are images of photographs of the the water in the Fujiwara Dam before and after the Reverend Kato Hoki, chief priest of Jyuhouin Temple, offered an hour long prayer over it.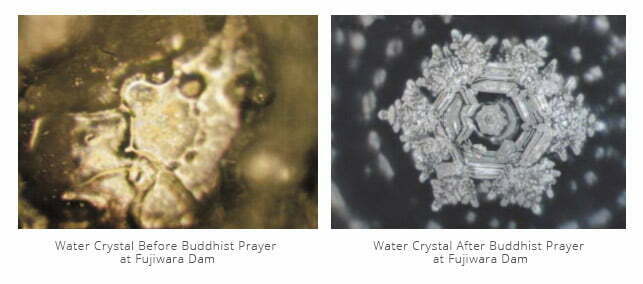 How Music Affects Water?
Dr. Emoto also studied how sound affects water. The Emoto music studies demonstrate how certain types of sound, like classical music, generate beautiful crystalline patterns, while heavy metal music, generate ugly and distorted crystalline formations. In the images below you see the crystalline formation resulting from water being exposed to Mozart's Symphony No. 40 and then in contrast what the water crystal image looks like after listening to heavy metal music.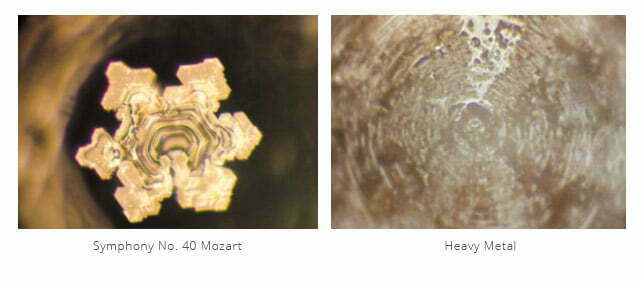 Dr. Masaru Emoto put Water as a Living Consciousness on the map for the scientific world. He showed us how water is an energy capable of more than we ever imagined. The power human thoughts, sounds and intentions has to strengthen and disempower is one of the greatest discoveries of our time.
His work has us question, if water is affected by the words, intentions, and energies, what about human beings, who are made of mostly water? If we transform the water and thoughts we are made of, what else is possible?
There are legions of scientists who have built upon the breakthroughs of Dr. Emoto and are offering practical technologies for everyday life. One such example who we find particularly inspiring is the Austrian Engineer Bernard Ratheiser. Since 1994, he has developed devices that restructure water molecules and assist water in being its highest vibration as living energy.
Water Crystals and Structured Water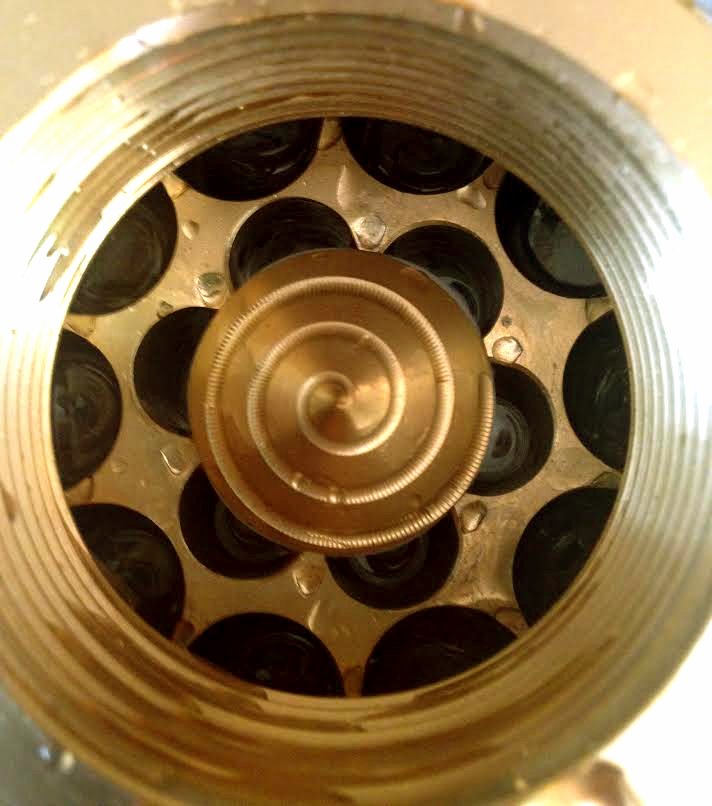 With vortexing and sacred geometry along with nature's energies through precious stones, Bernhard Ratheiser has created a way for water to be revitalized when it passes through one of his water structuring devices. Every measurement in his beautiful devices is designed to evoke the energy of the cosmos and realign water with the energy of creation.  Take a peek inside the UMH Master Whole House device in the next image.
When water passes through his UMH devices, everything life supporting in the water is enhanced, energy increases, memory is erased, and toxins are energetically neutralized. The following are actual photos of water that passed through the UMH device using the Emoto Protocol and demonstrates how inherent spring water quality is restored. You can see how the water crystal photos before and after passing through the UMH Master whole house device result in a significant improvement in crystalline structure.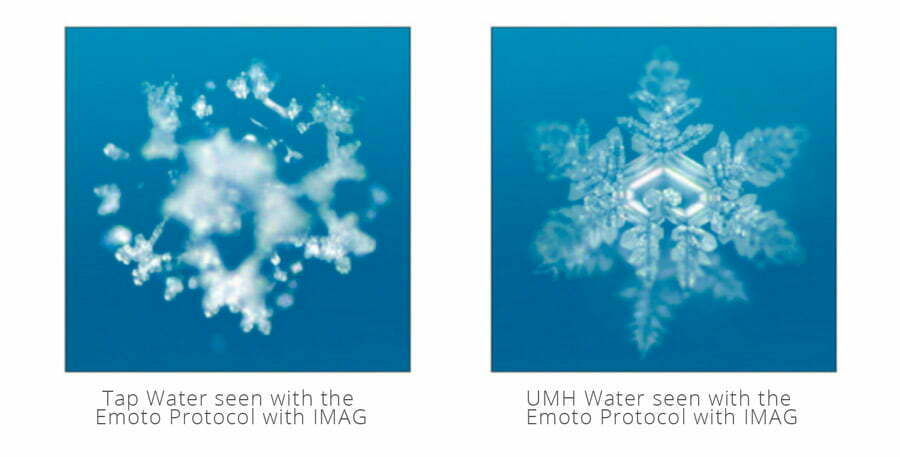 Another of our collections, VitaJuwel, asked the Hadolife Laboratories in Austria, which was co-founded by Dr. Masaru Emoto and his oldest student to take microscopic photos of water before and after it had been treated with VitaJuwel.   You can see the stunning result below that's an example of the crystalline structure you'll be drinking in the water you can charge in the VitaJuwel Wellness bottle found at The Wellness Enterprise.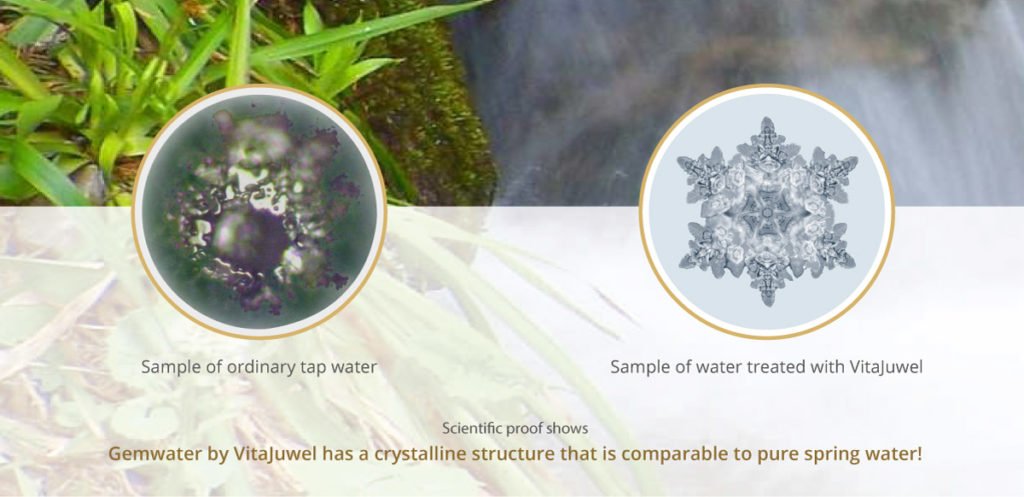 We live in exciting times when new technologies like water structuring devices are making it easy for us to access water's highest vibration. Our understanding of the natural world is moving to new levels as technology embraces the truth of structured water science with sacred geometry, vortexing, and gemstones.
Thanks to the work of Dr. Masaru Emoto, we now know what is possible when we consider water as a living consciousness. You can also follow the work of Michiko Hayashi, the Global Director of the Emoto Peace Project  who lectures all over the world and continues to spread his legacy.  There are now many scientists diving deeper into what's possible with the energy of water. If you'd like to continue to expand your knowledge there are many great resources such as these videos on YouTube.

Sept. 6 (TUESDAY)               First Day of First Semester
Oct. 10 (Monday)                   Columbus Day Holiday
Nov. 21 – 25                           Fall Break (and Thanksgiving)
Dec. 15                                   Last Day of Fall Semester
Second Semester
Jan. 3 (TUESDAY)                 Second Semester Begins
Jan. 16  (Monday)                  Dr. Martin L. King Holiday
Feb. 20  (Monday)                  Presidents' Day Holiday
Mar. 13 – 17                           Spring Break Holiday
April 7 & 10                           Good Friday and Easter Monday Holidays
May 26                                    Last Day of Spring Semester
Hang on
to your Faith.
You will get there.