Dedicated
to our wonderful friend
Dr. Bruce Rodgers.
It is an Honor
to recognize the dedication
and sacrifice
to our Nation
of Dr. Rodgers.
He is
a man much to be
admired.
We Love You.
You deserve
to be Happy!
We all do.

It is what
God Almighty
wishes for each of
us.
"These things
I have spoken to you,
that My Joy
may be in you,
and that your Joy
may be full."
– John 15:11
When Conscience
is Majestically bridled
to Being,
what you long for,
longs for you.
To feel truly alive
in the now,
in this very moment,
find the Child in you
still at play.
The Majesty of Life
can be felt
in every day,
Today,
Tomorrow,
and in the memory
of Yesterday.
This moment
is caressed by every drop
of rain that falls,
sparkling through the void
of God's Love,
and by every Ray of Sunshine
shinning down from above,
by every kind word you say,
and every Prayer
you Pray.
Believe it or not,

your World
revolves
around the
Equator
of your Smile.
.
Yes,
countless Blessings
YOU bestow,
all the while
you smile
each and every
day.
For every action,
an opposite and equal
reaction
is conveyed.
And by your actions
from all the Love you share,
Blessed rewards
will be payed.
"When we are stricken
and cannot bear our lives any longer,

then a tree has something to say to us:
Be still! Be still! Look at me!
Life is not easy,
Life is not difficult.
Those are childish thoughts.
Let God speak within you,
and your thoughts will grow
silent."
– Hermann Hesse

What the Truth is,
has been told
long, long ago.
It resides deep within
the Time of Man,
within the Pages
of a Story
of old.
The Word of God
reveals everything you
need to know
to
shelter you
from the storms of Life,
and
warm you
from the cold.
Known by all
through ages deep,
it is the Greatest Story
ever told.
My Dear Friends,
what befalls one
comes of Life,
and is Legend
of us all,
as Life
becomes
a breathless sigh,
something far, far more
than you
or I.
Yes,
breathless we may be,
with a Beautiful sigh
of relief,
upon knowing
that above all things
in Heaven
or upon the Earth,
we can discover
Joy
in the Morning
of our Belief.
May God Bless
YOU
on this Sacred
and precious Day,
the very first day
of the rest
of your Life.
Goodnight.
Baking soda could reduce your chances of an early death
Research published this month in the Clinical Journal of the American Society of Nephrology found that having balanced baking soda, or bicarbonate, levels in your body could reduce your chances of an early death.
The study examined data compiled in the Health, Aging and Body Composition Study for 2,287 participants. Participants were healthy adults who, at the onset of the study in 1997, were between the ages of 70 and 79, and were followed for approximately 10 years. Survival data were gathered through February 2014. 
What did they find?
Study author Dr. Kalani Raphael, associate professor and nephrology and hypertension specialist at the University of Utah, and colleagues investigated pH, carbon dioxide and bicarbonate in association with long-term survival. According to the University of Utah press release, "Critically ill patients with severe acid-base abnormalities have a very low likelihood of surviving their illness, but it's unclear whether more subtle changes in the body's acid-base status have an effect on the longevity of relatively healthy older people." 
Raphael and colleagues found that low levels of bicarbonate may be linked to an increased risk for premature death by 24 percent. Sodium bicarbonate assists your body in balancing pH levels, possibly extending life. "What we found was that generally healthy older people with low levels of bicarbonate had a higher risk of death," Raphael said. "Adding the pH measurement into the equation didn't change the results, which is important because pH is not routinely measured."
The study's findings may assist clinicians in better assessing a patient's risk of premature death by analyzing their blood bicarbonate concentrations more closely. Clinicians can recommend dietary adjustments to patients with low bicarbonate concentrations to optimize health.
What does it mean for me?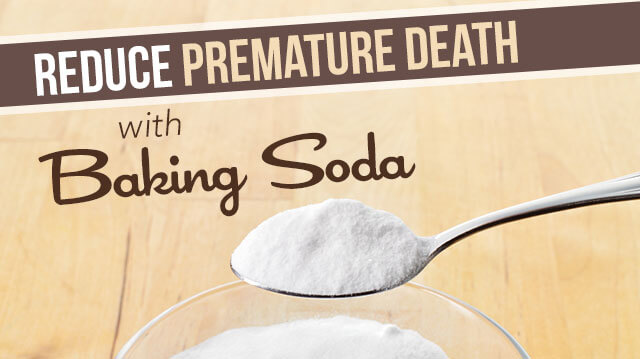 How do you get more baking soda in your life? Surprisingly, the answer has nothing to do with that yellow box in your fridge fighting odors. If you want to balance your pH levels by getting more sodium bicarbonate in your diet, eating more fruits and vegetables is the key. 
Fruits and vegetables high in potassium and bicarbonate will have a negative potential renal acid load (PRAL) score. This represents the amount of acid produced by the kidneys after metabolism. The higher the negative, the more potassium and bicarbonate they will provide, potentially reducing your risk of premature death, according to the study. Apples, raisins, spinach, bananas, carrots, broccoli, lemons and even coffee are a few sources that will boost your potassium and bicarbonate levels. 
Are you eating enough fruits and vegetables to keep a healthy pH balance
– by Stephen Seifert
Stephen Seifert is a writer, professor, adventurer and a health & fitness guru. His flair for travel and outdoor adventure allows him to enjoy culture and traditions different than his own. A healthy diet, routine fitness and constant mental development is the cornerstone to Stephen's life.
Sources:
http://cjasn.asnjournals.org/content/early/2016/01/13/CJN.06200615
http://www.eurekalert.org/pub_releases/2016-01/ason-lbl010816.php
http://www.precisionnutrition.com/wordpress/wp-content/uploads/2009/05/acid-base-foods-pral.pdf
Important Dates
Dec. 22 Friday                      Last Day of Fall Semester
Dec. 23 – Jan. 8                    Christmas Holidays
Jan. 9 (TUESDAY)                Second Semester Begins
Jan. 15 (Monday)                 Rev. Dr. Martin L. King Holiday
Feb. 19 (Monday)                 President's Day Holiday
March 12 – 19                       Spring Break Holiday
April 13 & 16 (Fri. & Mon.)  Good Friday and Easter Holidays
May 22- 25                            Adventure Trip
May 25                                  Last Day of Semester
Trip Details are posted each Wednesday at 7:00 p.m.: William's Weblog at andersonschool.net
Copyright Disclaimer – Section 107 – Copyright Act 1976,
allowance is made for "fair use" for purposes such as criticism, comment, news reporting, teaching, scholarship,and research.
Fair use is permitted by copyright statute. Non-profit,
educational or personal use tips the balance in favor of "fair use".
Lyrics/song texts/paintings are property and copyright of their owners
and provided for educational purposes.
.